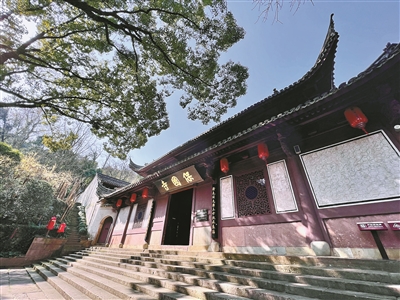 Baoguo Temple./保國寺。[Photo by Tang Yan]唐嚴攝

  By Xu Zhuowei
  Baoguo Temple has a long history. It was founded in the Eastern Han Dynasty, expanded in the Tang Dynasty, and witnessed its heyday in the Northern Song Dynasty. The majestic main hall, which has been preserved to this day, was rebuilt in 1013 during the Northern Song Dynasty. As the oldest and best-preserved timber structure in southern China, it has great historical, artistic and research significance and is considered a gem of architecture.
  保國寺歷史悠久,創于東漢,建于唐代,興于北宋,現存大殿即為北宋祥符六年(1013年)所重建,氣勢恢宏,是江南最古老、保存最完好的木結構建筑遺存,具有很高的歷史、藝術和科學價值,為江南一絕的古建筑瑰寶。
  Baoguo Temple is located at the foot of Lingshan Hill in Hongtang Town, Jiangbei District, Ningbo. It is famous for the exquisite architectural techniques employed. The Temple's buildings have a simple and elegant design, surrounded by beautiful, well-kept gardens and points of interest such as Linglong Spring, Xianren Bridge, and Diejin Terrace. It is a unique destination that showcases cultural legacy in a well-protected natural environment.
  保國寺坐落在寧波市江北區洪塘鎮的靈山之麓,因精湛絕倫的建筑工藝而聞名于世。整個建筑群古樸典雅,園林綠樹繁花,生態、自然環境優越,散落著靈龍泉、仙人橋、疊錦臺等景點,是一個罕見的文化、生態完美交融的旅游園區。