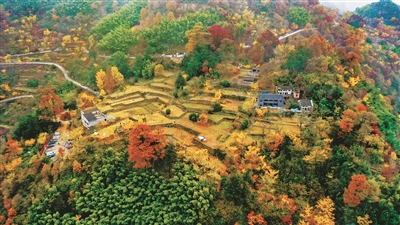 The Maohuo Park. /茅鑊古樹公園。[Photo by Tang Yan]唐嚴攝

  By Dong Na
  Hidden in the Siming Mountain, the Maohuo Park has more than 100 ancient trees of nearly 1,000 years old, such as Pseudolarix amabilis, ginkgo, and maple.
  茅鑊古樹公園藏于四明山深處,擁有金錢松、銀杏、楓香等樹齡近千年的古樹百余棵。
  There is a lush and shady group of ancient trees at the entrance to the Maohuo. Although the oldest has been growing for more than 600 years, they still branch out and are well preserved. The trees can reach a height of about 40 or 50 meters, each tree requires three or four adult men to hold together. The most amazing is an unknown ancient tree near the village entrance, whose diameter of about 1 meter. Though the middle of the trunk has all rotten empty - when you poke your head through the hole at the bottom of the tree can even faintly see the light of the sky- the canopy still has dense branches and leaves.
  公園內有一片郁郁蔥蔥、蔭可蔽日的參天古樹群,雖說年齡最大的已經風吹日曬了600余年,可依然枝繁葉茂、保存完好,樹高均可達到四五十米左右,每棵樹都需要三四名成年男子才能抱攏。最神奇的當屬一株不知名的古樹,樹直徑大約1米,雖然樹干中間已經全部爛空,從樹底部的洞探進頭可以隱約望見天空的光亮,可樹冠依舊枝葉茂密,生命力還很旺盛。
  The park is rich in natural resources, with ancient trees all over, including the rare species of Pseudolarix amabilis, which is protected by the state, the ginkgo tree, which is known as a "living fossil" in the plant world, and the Torreya tree, known as the "longevity tree". Among them, one of the most famous trees of Pseudolarix amabilis, called "the king of all trees", is about 500 years old, whose tree circumference and wood volume are the most in China.
  古樹公園自然資源豐富,參天古樹遍布,其中包括國家重點保護的稀有樹種金錢松、有植物界"活化石"之稱的銀杏樹、被稱為"壽星樹"的香榧樹等。其中最著名的一棵被稱為"萬木之冠"的金錢松,樹齡約500年,其樹圍和立木蓄積量為全國之最。