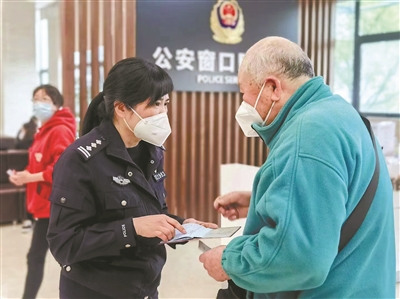 An elderly man is inquiring about the application. Photo by Zou Xin
  "I have been keeping an eye on the availability of endorsement for Hong Kong travel. So I came here early this morning." At 10∶00am on January 9, Mr. Shi arrived at the Household and ID Card Service Center of the Ningbo Public Security Bureau Jiangbei Branch for travel permits to Hong Kong. He had already made a travel plan with his friends before this visit.
  "我一直在關注香港簽注什么時候可以辦理,今天一早就過來了。"1月9日上午10時,市民施先生來到寧波市公安局江北分局戶口證件辦理中心,辦理赴香港旅游簽注。他和朋友已經做好了出行規劃,希望盡快成行。
  On January 9, the first working day after the Ningbo Public Security Bureau released ten measures to facilitate border control, the entry-exit service windows of the Household and ID Card Service Center of the Ningbo Public Security Bureau Jiangbei Branch were teeming with residents applying for entry-and-exit permits. As Wang Guilian——Deputy director of the application center——revealed, "Our center sees a surge of applicants coming, and most of them apply for passports and travel permits to Hong Kong and Macao."
  1月9日是寧波市公安局推出十項出入境便利化措施后的首個工作日,寧波市公安局江北分局戶口證件辦理中心出入境窗口排滿了辦理業務的市民。該辦理中心副主任王桂蓮告訴記者:"最近來大廳辦理業務的人流量陡增,主要是辦理護照和赴香港、澳門旅游簽注的。"
  Currently, travel endorsement for Macao can be obtained from self-service machines, and eligible residents with necessary qualifications can bring their valid entry permit to apply for endorsement on the machines. Endorsement for Hong Kong travel requires a service window for application and is currently only open to Ningbo natives or non-natives who own Ningbo residence permits. It takes no more than 7 working days for the former group of people and no more than 20 working days for the latter.
  目前澳門簽注開放智能簽注,符合條件的市民只需本人帶上有效的通行證,在智能簽注機自助辦理即可。香港簽注則需人工窗口辦理,目前只受理寧波戶籍人員和持有居住證的非寧波戶籍人員的簽注業務。寧波戶籍人員簽發時限為7個工作日,持有居住證的非寧波戶籍人員簽發時限為20日。
  Approving of normal passports for overseas tourism and visiting friends has also been resumed. For Ningbo natives, the approval will be issued within 7 working days, and for those non-natives with residence permits of Ningbo within 20 working days.
  另據了解,因出國旅游、訪友申請普通護照,目前也已有序恢復受理審批,簽發時限為:寧波戶籍人員為7個工作日,非寧波戶籍人員為20日。
  As the Chinese New Year of the Rabbit is approaching, Hong Kong, Macao and other overseas travel will remain highly popular. Wang therefore cautioned anyone with a plan of overseas travelling during this holiday to ensure that they have an understanding of entry regulations and any epidemic-prevention policies of destinations prior to their itinerary planning.
  隨著春節假期臨近,市民赴港澳游、境外游有望持續走熱。在此,王桂蓮也特別提醒大家,如果春節期間計劃赴港澳游或出境游,一定要提前充分了解目的地入境規定和相關防疫政策,合理規劃行程。
  "For those people who have no current travel plans, we suggest that they hold off applying for entry-exit permits and start their application 2-3 months in advance. Meanwhile, citizens are recommended to contact the exit-entry services beforehand to obtain the necessary requirements, in case of possible disqualifications or missing of application materials that would affect the application process."
  "對于近期無出行計劃的群眾,我們建議暫緩辦理相關出入境證件,可以在有行程計劃前2到3個月再辦理。同時也建議市民在前往出入境證件辦理窗口前,先撥打全市各出入境窗口咨詢電話,提前了解辦證條件和所需提供的材料,以免因條件不符或者材料不全無法辦理。"
  Among the ten entry-exit facilitation measures taking effect since January 8, 2023, are simplifying the application of business passports, supporting Hong Kong-bound business activities, rolling out the system of "whitelist" and "police-enterprise liaison officer", keeping the "green channel" open and streamlined, resuming service on Saturdays, putting into use the self-service machines for visa issuance across Ningbo, launching the online services of "Zhejiang Immigration", implementing convenient visa-application services to foreigners, offering quick visa application at airports and ports, and setting up emergency service channels for the entry of Taiwan compatriots.
  據介紹,寧波市公安局自1月8日起,推出十項出入境便利化措施,包括精簡商務類護照辦理手續、支持赴港開展商務活動、推出"白名單" "警企聯絡官"制度、暢通綠色服務通道、恢復周六辦證服務、全面啟用智能簽注設備、開展"浙里移民"線上便利服務、提供外國人簽證證件辦理便利服務、開展機場口岸簽證快捷辦理、開通臺胞入境緊急服務通道。
  The Household and ID Card Service Center of the Ningbo Public Security Bureau Jiangbei Branch will, as Wang highlighted in the interview, act in accordance with the 10 measures and provide favorable services to local enterprises that are planning to join major investment projects of the BRI (Belt and Road Initiative), expand international markets, participate in business negotiations, and attend important meetings. It will open exclusive service windows for business personnel, and provide differentiated services, be they emergent or special. "The processing time for business passports will be shortened from 7 working days to 5 working days and will be further shortened to 3 working days for emergencies. Enterprises and their subordinates who have completed the business registration and record filing can apply for business endorsement as soon as Hong Kong and the Chinese mainland fully resume customs clearance.
  王桂蓮表示,寧波市公安局江北分局戶口證件辦理中心將根據寧波市十項出入境便利化措施內容,為我市赴境外參與"一帶一路"重點投資項目、拓展國際市場、參加商務談判或重要會議等活動的企業,拓展窗口綠色通道服務范圍,開設商務人員辦證專窗,急事急辦、特事特辦。"因商務事由申請護照的,辦證時限由7個工作日縮短至5個工作日,符合緊急事由的,辦證時限縮短至3個工作日。已辦理完成商務登記備案企業及所屬人員,可在香港和內地全面開放通關后第一時間申請商務簽注。"