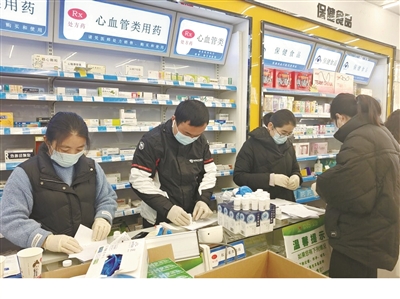 Volunteers are separating ibuprofen tablets into little packages. Photo by Wu Danna.

  In this late December, Xu Dongbin and Wang Xiaoqin – a post-1980s couple and owners of a local pharmacy – decided to give away 40,000 ibuprofen tablets in separate small packages to residents. Their benevolence has been prevalently welcomed among the public, enjoying thumbs-up from netizens.
  近日,浙江寧波80后藥店老板徐冬斌、王曉琴夫婦決定將店里的4萬粒布洛芬拆分,免費發放給市民。網友紛紛為他們的善舉點贊。
  At 7 p.m. on December 24th, 2022, the young couple with volunteers were, when contacted by Ningbo Evening News, busy unpacking the original ibuprofen boxes into smaller packages containing nine tablets apiece. These new packages would be distributed free of charge the following day.
  2022年12月24日晚上7點,當記者聯系到他們時,他們和志愿者正在忙著拆分4萬粒布洛芬片,9粒一份,準備第二天免費發放給市民。
  During the daytime, Xu and Wang had already repackaged and sent over 16,000 free ibuprofen tablets. This heartwarming act of kindness was soon greeted with rapturous acclaim.
  在12月24日白天,他們已經將店內近1.6萬粒布洛芬分拆后,免費發放。這樣的暖心善舉收獲了許多市民的點贊。
  Ibuprofen – currently in high demand – has been unfortunately out of stock these days. On the day before their free distribution, Xu snapped up a batch of ibuprofen antipyretics through the supply channel and immediately contacted Wang Guoneng, director of Rainbow Bay Social Work Service Center in Ningbo Qianwan New Area. "Greatly worried over the critical need of so many citizens on fever reduction medicine and the like. I'd like to give them away tomorrow morning!" Xu made such a proposal the minute he met with Wang Guoneng.
  近段時間,很多居民都要買布洛芬片,但始終沒有貨。2022年12月23日,徐冬斌通過進貨渠道搶到了一批布洛芬退燒藥,便第一時間聯系了彩虹灣中心的負責人王國能。"看到許多居民求藥心急如焚,我也很著急,我想明天早上就把它捐出來分發掉吧!"和王國能一見面,徐冬斌就直接說出了想法。
  "I really appreciate your kindness! Recently our center is short of volunteers. However, we will surely help distribute tablets to those in need!" Wang sent recruitment messages to the group chats of volunteers the first time on December 23rd.
  "太感謝了!志愿者最近人手不夠,但我們一定保證將藥分到每個人手上!"王國能當日便在志愿者群里發出招募信息。
  Obliging volunteers were gathered on the morning ofDecember 24th to assist unpacking and repackaging. Shortly after 9 a.m., informed residents lined up in front of the pharmacy. "Each person receives nine tablets, only eligible to patients with fever above 38.5 °C. If fever persists after medication, you must consult professional medical treatment as soon as possible." Instructions and precautions were also patiently delivered to the residents coming for the free medicines.
  2022年12月24日一早,熱心志愿者到位,負責拆分包裝,一切有條不紊。9:00剛過,得知消息的居民在藥店門口排起長隊。"每人領9片,38.5℃以上才能使用,如果用藥后依然持續發熱,一定要盡快就醫。"志愿者們耐心地向前來領取免費藥品的居民講解用藥說明和注意事項。
  A couple of workers at the nearby construction site of Qianwan New Area expressed their gratitude. "Many colleagues have caught a fever for days. But antipyretics are still unavailable. It's truly a life-saving medicine."
  現場,幾位來自前灣新城工地的工人領到藥后感激地說:"我們好多工友燒了好幾天了,一直買不到退燒藥,這真是救命藥。"
  From 9 a.m. to 4:30 p.m., the pharmacy sent over 16,000 ibuprofen tablets in one day, and for the volunteers, they led a highly hectic schedule even with no time to have lunch.
  從9:00到16:30,藥房一天之內送出近1.6萬顆布洛芬,志愿者們忙到中午都來不及吃飯。
  News about free medicine quickly went viral on social media.
  免費送藥的消息很快在社交平臺傳開。
  "Nice bosses with great love and upright character!"
  "大愛的老板,人品杠杠的!"
  "Thanks for your kindness. You saved us."
  "謝謝老板的愛心和善舉,真的救急了。"
  "Their pharmacy has altogether four branches nearby. For COVID-19 antigen test reagents, face masks, and various related medicines, all have been sold at normal prices these days as long as the above drugs and facilities are still in stock. Their pharmacy enjoys a great reputation."
  "老板在附近共有四家分店,他們銷售的抗原試劑、口罩、各類相關藥品,只要有的,都以平時價格出售,是良心店鋪。"
  The generosity of this young couple has been heatedly discussed among netizens, widely appreciated as an excellent example of promoting the core socialist values.
  老板的義舉在網友中"炸鍋",大家紛紛贊賞藥店的大愛之心,值得我們學習。
  "It's no big deal. It will be great if all these can be helpful. Let's work together to tide over the difficulties!" Xu replied in his calm demeanor.
  面對網友的點贊,他說:"只要能幫到大家,這都是小事情,希望與大家共渡難關。"